Support for Andi-Mack's Supporting Character
Disney Channel's First Gay Character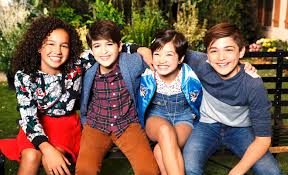 On April 7, 2017 Disney Channel released their new show Andi-Mack about tweens finding out how to express themselves and who they are. The show was extremely popular since it was so out of the ordinary.  It's about a young girl finding out her sister was actually her mother and trying to cope with feelings for her crush, Jonah Beck.  However,  the most exciting thing would be the show having Disney Channel's first gay character.
Cyrus Goodman, portrayed by Joshua Rush, is one of the main characters in the show. On the episode, "Hey, who wants pizza?" he came out to his friend Buffy and admitted that he was jealous of Andi-Mack because Jonah liked her and he liked Jonah.  The scene was very heart touching and had a lot of thought put into it. Washingtonpost.com  interviewed the CEO, Sarah Kate Ellis, who put out a statement saying, "Television reflects the real life world and today that includes LGBTQ youth who deserve to see their lives depicted on their favorite show. Disney has been a leader in LGBTQ inclusion and there are so many young people who will be excited to see Cyrus' story unfold."  Joshua Rush was also very excited about this saying, "I'm so proud to bring Cyrus' groundbreaking story line to life and for you to see what we've been working on."
This was also blowing up on twitter when Disney announced the show, mostly positive comments suc as,  "I'm so happy!!! Andy Mack is really a good show on Disney and I'm happy it has the first gay character." Some were even hoping for another coming out with Cyrus' and Andy's crush, Jonah saying: "I'm waiting that Jonah feels the same way to Cyrus."Of course there will always be some people who are not very happy about this.  An article on www.out.com there was article where over one million moms have supposedly banned the show, one even asking to cancel the series.
Luckily, Joshua doesn't let this bother him, "There's been negativity [on social media], but there's been an overwhelming amount of positivity and that's what I've been focusing on, that's what I've been loving," he told US magazine. "Seeing so many responses on Twitter and Instagram that have been so powerful. That's what I think about."
However this isn't the first time Disney has had a gay character. In Disney's Beauty and the Beast Lefou, Gaston's diminutive was gay in both the animated and live action movie. Homosexual characters have become more popular over the years in society, TV shows, and movies and Disney is just hopping on the bandwagon.  They are helping kids learn about these things to help them later in life if they're ever having trouble with their sexuality or understanding others'.  
As Joshua Rush said; "It's important to be yourself, no matter what. That's the core thing for me, whether it involves talking to your friends, like Cyrus does, or talking to your family, it's always important to be inclusive and love everyone."