Wild Card: How the Las Vegas Raiders Can Make the Playoffs
New city, new attitude. The Raiders mean business this year, and Anthony Colavito will explain why.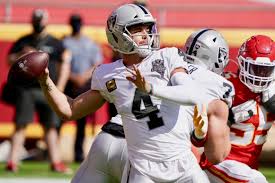 This NFL season has been one like no other. With the pandemic still in full swing, it is starting to cause games to be postponed due to players and staff members testing positive for the virus. On top of that there have been many injuries to star players, Washington had to change their team name, and Tom Brady is a Buccaneer, which is something that we thought we'd never see. Another storyline is Las Vegas finally has a football team. The Oakland Raiders packed up and headed a little closer to the east coast and settled in their new home of Las Vegas. It is a move that has been talked about for years now as the construction of their new stadium has finally been completed. The Raiders were a real toss up going into this season. Derek Carr finally has some new weapons now in tight end Darren Waller and running back Josh Jacobs. These two had outstanding breakout seasons last year, Jacobs being a rookie. The AFC is considered to be weak, and with three wild card spots this year, the Raiders have a good shot to take a spot.
Now let's break it down. There are four teams that should be locked into the playoffs this year. The Baltimore Ravens and Kansas City Chiefs are pretty much guaranteed to get in. The Buffalo Bills and New England Patriots will come down to the wire when it comes to the winner of that division, and it is safe to say that the team that finishes second in the AFC East will be the first wildcard team. But what about the other two spots?
Well the division champions take the top four spots, as the AFC South could go to either the Tennessee Titans or the Indianapolis Colts. So one of those AFC South teams will get a top four spot. So that is now the Chiefs, Ravens, Bills, Patriots, and either the Colts or Titans, that is five spots taken up. Now where do the Raiders fit in here? Let's now go into why the Raiders will get a wild card spot. 
The Raiders remaining schedule isn't too hard. Their next slate of games is indeed very tough though. Las Vegas has to travel to Kansas City to play Patrick Mahomes and the Chiefs next week, and the week after host Tom Brady and the Buccaneers on Sunday Night Football, which is a game that they could steal. After the Sunday night matchup with Brady, they travel to Cleveland to take on the Browns. As of right now, the Browns look great sitting at 3-1. Vegas will definitely lose both games against the Chiefs and will split the series with their division rival Los Angeles Chargers. It wouldn't be too big of a surprise if there is a sweep that could go in favor of Vegas or LA. The Raiders will go ahead and split the games between Tampa Bay and Cleveland, meaning they will win one and lose one of those games. The Raiders should easily be able to sweep the Broncos, as they have injuries left and right. Vegas should be able to get wins against the Falcons, the Dolphins and the Jets. A pivotal matchup with the Indianapolis Colts in week 13 could really determine a playoff spot. The Raiders should be able to get 7-8 wins with their remaining schedule. Which could be enough to get them a wild card spot. 
Now let's examine the roster. As mentioned previously, Derek Carr finally has some good weapons. Darren Waller has easily been his top target this year. The rise of Hunter Renfrow could really help the Raiders. Not saying that Renfrow is a top tier wide receiver, but he has been serviceable this year. Henry Ruggs is also a guy that could really emerge later in the season, as he is only a rookie. Darren Waller has emerged as a top five tight end in football right now, with only guys like Travis Kelce and George Kittle ahead of him. You can really play with the order after those two, but Waller shouldn't sit anywhere outside of the top five. Josh Jacobs looks to have himself a great year as well. Jacobs currently sits at number seven on the NFL rushing leaders list with 300 rushing yards and three touchdowns on the ground. And Derek Carr is having himself a decent year to start as well. With 1,095 passing yards with eight touchdowns and no interceptions, Carr is looking to have a year like he did in 2016, where he led the Raiders to a 12-3 record as the starter before getting injured late in the season. The depth at wide receiver is really helping out Carr, with guys like Nelson Agholor and Zay Jones in the mix, it is really helping Carr spread the love with many reliable targets. Carr is looking great so far, and the Raiders are not pretenders. Touching on the defense, it isn't like it was when they had Khalil Mack, but veterans like Lamarcus Joyner, Cory Littleton, and others will be serviceable for this year, but it's safe to say the defense does need improvement.
With all of this being taken into account, watch out for the Raiders and do not sleep on them. It will be a tough race for the AFC wildcard spots, but it is a race that the Raiders could win and they should be taken very seriously. 
UPDATE: This was written before the Raiders shockingly beat the Chiefs this past Sunday. So that threw off the prediction of the Chiefs sweeping them this year. As mentioned earlier, the Raiders mean business this year. And that is the strongest evidence to prove that point. 
About the Writer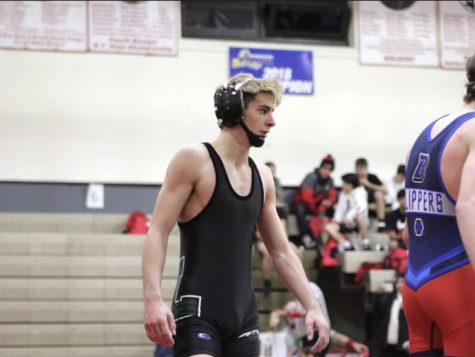 Anthony Colavito, Editor in Chief
Anthony Colavito is a senior at Lindenhurst High School. This is his third year writing for the Charles Street Times. Colavito wrestles for  the Lindenhurst...