Is California Going Down in Flames?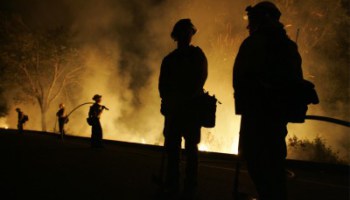 Kaitlyn Baum, Staff Writer
October 31, 2017
A re-occurring problem in California is brewing. Starting around the tenth of October, alerts for evacuations have been spreading around Northern California. Death tolls have been rising to 40 people, with victims as young as 14 years-old, all while firefighters have been battling the roaring flames of these fires. These fires have spread to 2,207 to 51,064 acres of land. Officials have said, "the biggest threat remains as the low humidity with dry air occurs.''  The 25 mph gusts of wind don't help much with the dry air either. More than 8,000 firefighters from California are trying to take down the dangerous fires with the help of many other firefighters in the region. "It's been drying out the mountains" said National Weather Service forecaster, Steve Anderson.
This recent Sunday, violent winds were kicking up in Central Napa Valley, the Town Officials had an evacuation for Sunday." Sonoma County has had a very tough morning with the winds that have surfaced over there. We're not out of the woods and have work to do," says Napa County Fire Chief Barry Biermann.  A 59 year-old man explained his heroic rescue of saving a disabled woman and her dog from the raging fires that occurred in the woods. He suffered first and second degree burns,and unfortunately the dog didn't make it. " There was atleast 5 times where we were gonna die" he said.  As the fires are expected to spread, people are searching for unexpected survivors that were engulfed in the flames. Lindy can help with this problem by doing a donations for California to help the rebuilt the destroyed buildings and help out families that are grieving.