Kyrie Irving Traded to the Mavericks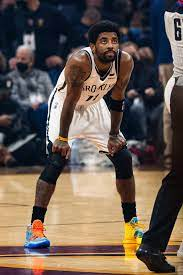 Following Kyrie Irving stating that he would like to move on from Brooklyn, there was a year of speculation of where he would end up. Eventually, the speculation came to an end after Kyrie was traded to the Dallas Mavericks.
This isn't the first time that Kyrie has requested a trade after being on a team for less than 3 years. He told his first team, the Cleveland Cavaliers, that he would never leave. Despite this, he then left for the Boston Celtics and said the same lie. Next, he left for the Brooklyn Nets who looked to be building a "super-team," after acquiring James Harden in a trade with the Rockets and picking up Kevin Durant in free agency. The Nets' future looked bright, but neither of those 3 players actually played together until 2 years later, all because of injuries. Unfortunately for the Nets, Harden got traded last season to the Philadelphia 76ers, Kevin Durant requested a trade last off-season, and now Kyrie got traded to Dallas.
Even though Kyrie is an amazing player, he has a terrible attitude, causing most Nets fans to be relieved that he got traded. The Dallas Mavericks needed someone to help Luka Doncic out, but nobody thought Kyrie was going to be that guy. The popular belief at the time was that he would be going to the Lakers to help Lebron's slumping team out.
However, Dallas' future is looking very bright after this acquisition. Luka has been needing help this whole season and now he finally has it. Even though Kyrie has a terrible reputation and attitude, his play makes up for it, and his time in Brooklyn this year will be remembered because of how well he played. The Nets are on a great run right now, and playoff chances are looking great even after trading Kyrie. Overall, many fans are extremely excited to see how Kyrie will do with the Mavericks.