She Kills Monsters @ Lindenhurst High School!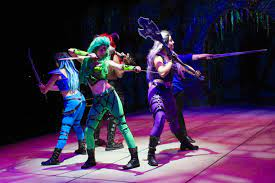 The spring play is finally here at Lindenhurst High School and it is filled with imagination, comedy, and Dungeons & Dragons!
She Kills Monsters is a dramatic comedy that follows the average Agnes Evans as she slowly learns how to handle the death of her younger sister, Tilly Evans. Although when Agnes finds Tilly's D&D playbook she is taken on an adventure that not only brings her into the D&D world, but also into the secret life of her sister. 
She Kills Monsters initially debuted in 2011, written by Qui Nguyen, who is also known for his work on Raya the Last Dragon and Strange World. When the play finally made it to the stage it starred Satomi Blair as Agnes Evans and Allison Buck as Tilly Evans, and since then these roles have been taken on by many other talented people. 
Even though the play was initially met with positivity, the play did face some backlash for representing LGBTQ+ bullying and relationships throughout the play. Despite this slight controversy She Kills Monsters is still a popular choice among many high schools and colleges due to the relatable themes it sets out on the stage. 
Although there are two versions of the play(the original version and the young adventurer's version) both still display the journey Agnes needs to take to find peace in her life. 
As the Stage Crew work hard to prepare the imaginative set of both the regular world of Ohio verses the magical world of D&D, the cast is working just as hard to make this show an immersive experience that will truly show the importance of family. 
Tickets are now for sale starting at $12 per ticket, during the nights of April 28th and the 29th at 7:00 PM. Don't miss this chance to not only support fellow classmates, but also the Lindenhurst Theater Department!