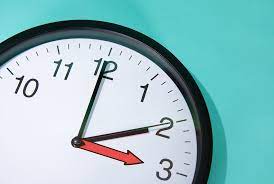 We are in the beginning stages of winter as we enter November this coming week. Although there were unusually warm temperatures in the middle of October, fall ended with a chilly mark, showcasing the beginning of the turn of our seasons. With each new season, everybody has a tradition for the winter preparations. Whether it's finding more layers to put on daily, watching Christmas movies, or visiting snowy landmarks, almost every person must in the coming week turn their clocks for the new solstice known as daylight saving.
Without realizing it, it is important for us to know that every year, we turn our clocks back or forward an hour with the turning of the seasons. This year, on November 5th, at about 2 a.m., the clocks will retract an hour to accompany the darker hours of the day. This will allow sunrise and sunset to be at an earlier hour than the day, allowing for more sunlight in the morning traditionally. With even more benefits, on Sunday we will gain more additional hours of sleep than we have in the last couple of months. This spring, our clocks will again change on March 10th, 2024, for the new season.
Much controversy has been placed around this topic over the past couple of years, leading to many states dismissing this act altogether. Specifically, Hawaii and Arizona do not follow laws describing the purposes of daylight saving. Both states left the law between 1967 and 1968 due to their regular climate temperatures. With temperatures relatively warmer within these states, they already maintain enough daylight without the use of daylight saving. This may lead to more states accommodating such easier tendencies, as the reasons for daylight saving are now useless as the practice was used for farming centuries prior.
Daylight saving was used prominently, but now the subject has still gained an unpopular opinion among the citizens of the United States. With daylight saving coming soon for the last time in 2023, there is only a couple of months until we must come around to it in March of next year, when all of America, except Hawaii and Arizona, complains of the hour of sleep they lost.