Kavanaugh vs. Ford: A Summary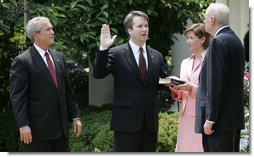 Hang on for a minute...we're trying to find some more stories you might like.
Brett Kavanaugh is a conservative attorney and jurist, currently nominated for a place in the Supreme Court. If chosen, he would take the place of Justice Anthony M. Kennedy. This alone caused a swell of controversy, as Kennedy was the median justice. In the court, there are four liberals and four conservatives, and Kennedy acted as the person who would bring a vote to a majority.
Christine Blasey Ford is a psychologist and statistics professor at Palo Alto University. She publicly came forward to accuse Kavanaugh of sexual assault before he could be elected into the Court. The allegation was first exposed in a letter written to Senator Dianne Feinstein, who then sent it to the FBI. At first, the letter was to remain confidential, but Ford said in an interview with The Washington Post that her "civic responsibility is outweighing [her] anguish and terror about retaliation."
In her accusation, she claims that, at a high school party in the 1980s, Kavanaugh, drunk, pinned her to a bed, attempted to take off her clothes, and put her hand over her mouth when she tried to scream. At the time of the supposed incident, Kavanaugh was 17 and Ford was 15. Ford stated, "I thought he might try to inadvertently kill me. He was trying to attack me and remove my clothing."
Kavanaugh has denied that this ever took place. He has claimed to have a calendar from the summer of 1982 that he believes would disprove Ford's claim, as they do not include a party that would match the alleged events. Many people have come to Kavanaugh's defense, including President Trump, who tweeted, "I have no doubt that, if the attack on Dr. Ford was as bad as she says, charges would have been immediately filed with local Law Enforcement Authorities by either her or her loving parents. I ask that she bring those filings forward so that we can learn date, time, and place!"
Others have backed up Ford; several celebrities have shown their support using the hashtags BelieveSurvivors and BelieveWomen, as well as countless sexual assault survivors sharing their own stories under the hashtag WhyIDidntReport (a direct response to President Trump's tweet). Since Ford came forward, two more women have accused Kavanaugh of sexual misconduct as well: Deborah Ramirez and Julie Swetnick. On the other hand, two unnamed men have come forward and claimed that they were Ford's assaulter, not Kavanaugh.
On Thursday, September 27th, the Senate hearing took place, which included testimonies from both Dr. Ford and Kavanaugh. Dr. Ford said, "I am here today not because I want to be. I am terrified. I am here because I believe it is my civic duty to tell you what happened to me while Brett Kavanaugh and I were in high school." She denied being a political pawn, as many of the Republicans have claimed. She talked about how the assault altered her life, about her struggle when deciding whether or not to make her story public, and how the "uproarious laughter" between Kavanaugh and witness Mark Judge at her expense is permanently ingrained in her memory.
Kavanaugh refused to withdraw, saying that he "will not be intimidated." He continued, "You've tried hard. You've given it your all. No one can question your effort, but your coordinated and well-funded effort to destroy my good name and to destroy my family will not drive me out. The vile threats of violence against my family will not drive me out. You may defeat me in the final vote, but you'll never get me to quit. Never." However, he is now under fire for dodging questions and making false claims. Kavanaugh vehemently denied ever blacking out from drinking or ever becoming aggressive from drinking (something that his college friends and roommate disagree with), but Senator Richard Blumenthal (D-CT) brought up a speech Kavanaugh gave at Yale in which he "described, quote, falling out of the bus onto the front steps of the Yale law school at 4:45 am." Senator Blumenthal also noted that the quote ended with Kavanaugh trying to "piece things back together" about the night.
On Saturday, October sixth, Brett Kavanaugh was confirmed into the Supreme Court after the FBI investigation against him closed Friday. The senators voting were divided, 50-48. President Trump has called this a "tremendous victory." Still, those opposed to Kavanaugh's confirmation are protesting, and urging others to vote in the November midterm so that Democrats can have a chance to increase their control in Congress. Meanwhile, Kavanaugh has begun hearing his first Supreme Court cases.