Lindy Takes on ConnetMUNC 2019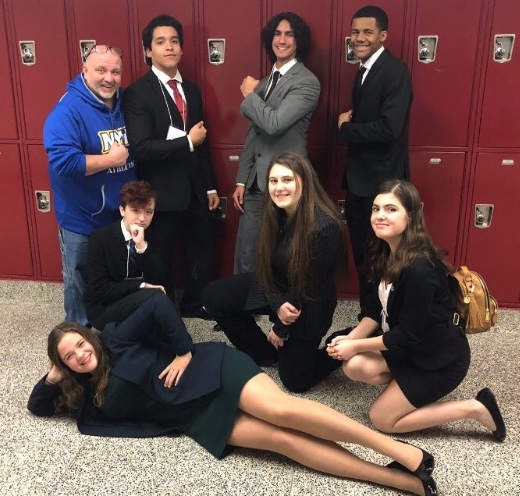 Connetquot's annual Model UN Conference took place this past Saturday, February 9, 2019 at Connetquot High School from 8:30 am to 9:00 pm. Seven students from Lindenhurst's Model UN club had attended the conference including, Eli Nathan (representing Switzerland/Ghana in UNCSTD), Nicolette Vita (representing Germany in General Assembly), Michelle Kurianowicz (representing New Zealand in IMF), Misean Fredericks (representing Morocco in IMF), Patrycja Chrzanowska (representing Uganda in African Union), Austin Martinez (representing South Sudan in African Union), and Efrain Laguna (representing Yemen in UN Women). Unfortunately, none of the Lindenhurst students won any awards at this conference; however, it was an enjoyable experience nonetheless.
The conference began with an opening ceremony before everyone was split up into their respective committees to begin debating. This particular conference had many unique committees such as UNCSTD where delegates had to switch the country they were representing halfway through the conference. They spent the first half of the conference representing developed nations trying to create resolutions to help underdeveloped nations and the second half representing the underdeveloped nations who needed to receive help. There was also a congressional committee where students represented congressmen in the U.S. congress rather than representing nations, and an African Union which had 1 topic and many sub topics rather than three topics. The debates were quite successful for the most part except for when the African Union wrote a letter to Congress asking for missiles to bomb Ethiopia and South Sudan.
At about 1:30, participating students took a 1 hour break for lunch which consisted of a variety of pasta. At 5:30, another break was taken for dinner. Around 7:30 to 8:00, most of the committees were wrapping up their debates in order to hand out superlatives before the closing ceremony where students would win the positions of best delegate and honorable mentions for their committees.
It's not too late to join Model UN. If you're interested, feel free to stop by a club meeting every other Wednesday in room 221 and/ or get more info from Efrain Laguna, club president, or Mr. Viggiano, club advisor.
"
On top of being a fun and unique club for anyone interested in international relations, politics, or even public speaking and debating, Model UN is also extremely rewarding when you get to put everything you've learned to the test and compete against students from other schools. It challenges you to think on your feet and compromise with others, as well as introduces you to students from all over Long Island, some of which you may go on to build lasting friendships with."
— Nicolette Vita