Amnesty International Hosts a Vigil Honoring the Death of Refugees All over the World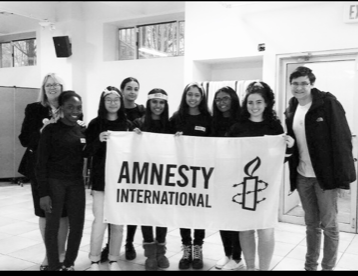 On Thursday April 11th, Amnesty International held a candlelight vigil at Masjid Darul Quran, a mosque in Bayshore. The vigil was held in honor for those refugees who face persecution and those who passed away, from all over the world. This vigil is the first official event to be hosted by Amnesty International, as a chapter of Lindenhurst High School.
The event was led by president of Amnesty International, Sabia Akand, junior from LHS, and coordinated by Assistant Principal Mrs. Flannelly. Students from Lindenhurst High School and people in attendance at the Masjid joined together at the basement of the mosque to take part in this beautiful event. The board arrived to the Masjid at 5:00 pm to help decorate the facilities and set up the vigil. At around 6:00 pm, the event commenced and began with an introduction to the board. This was followed by a speech, given by Sabia Akand, on what Amnesty International stands for, as well as an explanation to the refugee crisis affecting much of the world. In the words of president Sabia Akand "these refugees must be remembered and their deaths not go into vain." Food and drinks were provided to those who attended the event.
"
These refugees must be remembered and their deaths not go into vain"
— Sabia Akand
After the vigil, Mrs. Flannelly made some remarks, followed by a powerful closing to the event by Imam, Dr. Muhammad Abdul Jabbar PhD. As the youth of our community, it is important for us to take an active role in our communities and partake in such events. A special thanks to Imam, Dr. Muhammad Abdul Jabbar PhD and those at Masjid Darul Quran, for allowing us to hold this event in their facilities. We truly appreciate their dedication to their community and support of youth activists in fighting for social justice.