Lindy's Restaurants : Alitalia Pizzeria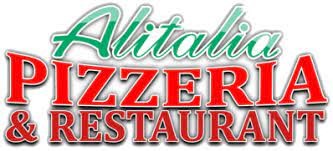 Alitalia Pizzeria is a family owned restaurant located in Lindenhurst on Montauk Highway in the Great South Bay Shopping Center. They are open Monday-Saturday from 11 AM to 10 PM and on Sundays they close an hour earlier at 9 PM.
To get all your delicious starters, hero, soup, pizza pies you can order by calling 631-587-4394. They offer delivery as well. You can even cater their food as well for big events and parties.
For starters you can order anything ranging from fried calamari, to garlic bread, to bruschetta. Their prices range from 3.5- 17 dollars. They have some soups with lentils, chicken noodle, and tortellini in brodo. They also have small side orders you can get like grilled or breaded chicken cutlet, sauteed broccoli spears, broccoli rabe, homemade meatballs, garlic knots, french fries with mozzarella cheese on top.
Their most popular main entrees are: chicken francaise, chicken marsala, shrimp scampi, and eggplant rollatini. Along with these entrees they have several good pasta dishes as well, alfredo pasta, clam sauce pasta, pesto pasta, bolognese pasta, and mariana/fra diavolo. For baked pastas, they have ravioli, baked ravioli, baked stuffed shells, baked manicoti, baked torrtelini, and baked ziti. Their most popular pizza pies that are delicious and mouthwatering are Brooklyn Style Grandma Pizza, Capri Pizza, Chipotle Chicken Pizza, buffalo chicken pizza, and chicken & ricotta pizza.
They also have dessert for the sweet tooths! Their desserts include NY Style cheesecake, Nutella cheesecake, cinnamon apple crunch cheesecake, gluten-free cheesecake, and espresso, coffee, cappuccino and teas can be served with them as well.
Make sure to take a day to go down and check out Alitalia pizzeria to have a good meal and enjoy yourself!