New Guitar Course Gains Student Interest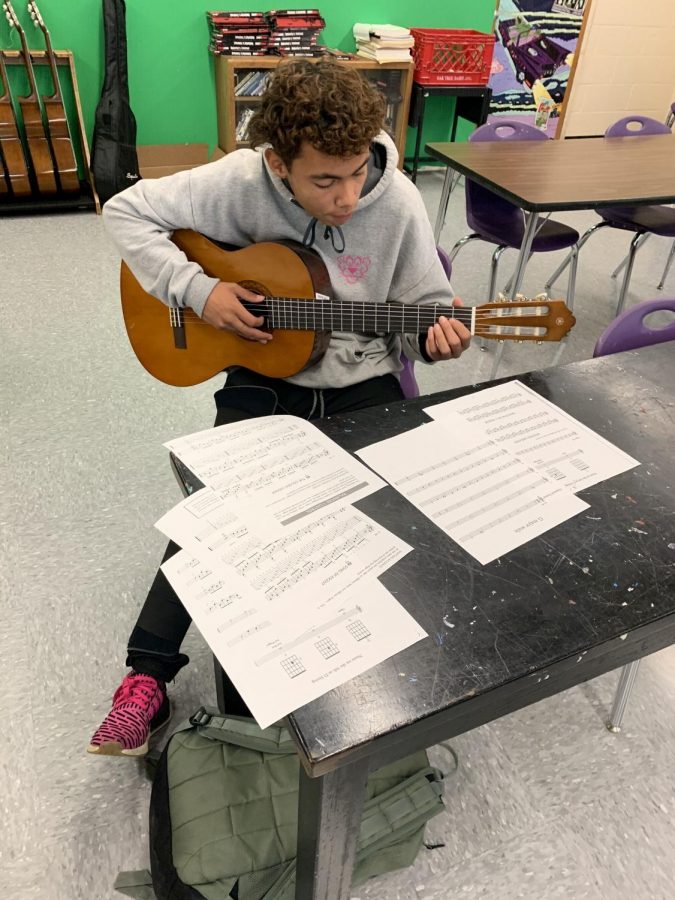 Have you ever wanted to play a guitar, but realized you knew nothing about music or didn't have any guitar experience at all?  Lindenhurst High School now offers Class Guitar One, a new music course available for students grades nine through twelve. Students may enroll in the course even if they have little to no music experience. "Everyone has the potential to learn guitar and lets face it, almost everyone has a guitar laying around" says Mr. McLendon, the new guitar teacher. In the class, students will be learning things such as open chords, bar chords, how to read music, and how to play their favorite songs. They will also be learning music theory. The course also explores the classical guitar, blues and rock styles, and guitar fingerboard so more advanced players can improve their soloing.
Mr. McLendon has been playing guitar for close to 50 years and currently plays professionally around Long Island with his current band. HIs band is called The Johnny Mac Band.  In 2016 and 2017, his band represented Long Island in the International Blues Challenge in Memphis.
"
Everyone has the potential to learn guitar….."
— Mr. McLendon
Next year the school is looking forward to opening up a second course for more advanced guitar players called Class Guitar II. This course is designed for more advanced players who have taken Class Guitar I or have good music reading skills and a strong guitar background. Much like Class Guitar I ,  Guitar II will explore some new musical classics as well as jazz guitar.
Noel Andrade, a sophomore enrolled in the class said, "it's a fun class and learning a new instrument is advantageous."  Mr Mac also offers extra help if you're trying to learn something about class or your own song so you 100% have the time to learn.  For students who have always wanted to play guitar yet know nothing about it, this class is the perfect class for you.