Macy's Thanksgiving Parade 2021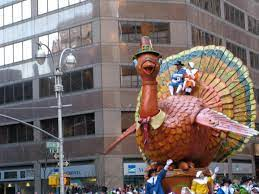 The 95th annual Macy's Thanksgiving Parade took place on November 25, 2021, and was aired from 9 a.m. to 12 p.m. in EST on NBC. The 25 million viewers tuned into NBC through their cable provider, Hulu, Live TV, or YouTube TV. On the chilly Thanksgiving morning, they all marched the 2.5 miles from Central Park West to Columbus Circle, turning onto Central Park South and heading down Sixth Avenue before turning west at 34th Street and ending at 7th Avenue in front of Macy's Herald Square. 
This year's new balloons:
-Netflix's "Ada Twist, Scientist"
-Funko Pop-inspired Grogu, commonly referred to as Baby Yoda but also known as The Child
-Ronald McDonald
-Pikachu joined by Eevee
Some of the popular classic balloons included were:
–"Peanuts" icon Snoopy
-The Boss Baby 
-Greg from "Diary of a Wimpy Kid"
-Goku from "Dragon Ball" 
-Nickelodeon's SpongeBob SquarePants and Gary
-SEGA legend Sonic the Hedgehog
-Papa Smurf from "The Smurfs"
-Red Titan from "Ryan's World"
-Chase from "PAW Patrol"
-The Pillsbury Doughboy
-Sinclair's Dino from the Sinclair Oil Corporation
-U.S.D.A. Forest Service character Smokey Bear
-Macy's reindeer Tiptoe
-Toni the Bandleader Bear
The marching bands performing:
-The Anne Richards Marching Stars: from Austin, TX. Performed "Girls Just Want of Have Fun"
-The Centerville High School Jazz Band: from Centerville, OH. Performed "The Twelve Days of Christmas"
-The Sound of Brownsburg Marching Band: from Brownsburg, IN. Entertained the parade viewers with "Mirko" from the Cirque du Soleil show Alegria
-The Lincoln-Way High School Marching Band: from Frankfort, IL. Performed "Metamorphosis" set to the music Aurora Awakes by John Mackey
-The Hampton University Marching Force: from Hampton, VA. Played a medley of Kool & The Gang's "Celebration" and Sister Sledge's "We Are Family"
-The Union High School Renegade Regiment: from Tulsa, OK. The Oklahoma high school came back this year with a performance of Oklahoma
-The University of Alabama's Million Dollar Band: from Tuscaloosa, AL. Performed "Santa Claus is Coming to Town" on Thanksgiving
-The Trabuco Hills High School Thundering Mustangs Marching Unit: from Mission Viejo, CA. Performed "Pure Imagination"
-The NYPD Marching Band: Some of New York's police officers marched Thanksgiving morning under the direction of Amy Pape
-The Macy's Great American Marching Band: The band is composed of the nation's greatest high school musicians and will include alumni this year in honor of 15 years in the parade
Importantly, Macy's partnered with the city and state of New York to ensure its health and safety protocols follow local and state guidelines, as well as the recommendations of the Centers for Disease Control and Prevention. All parade participants were required to be masked and vaccinated. 
Watching the Macy's Thanksgiving parade has become a strong tradition in many households. In conclusion, the one-and-only Santa Claus always appears as the parade's grand finale! 
https://www.usatoday.com/story/entertainment/tv/2021/11/01/macys-thanksgiving-day-parade-2021-fully-back-after-covid-restriction/6231902001/