5 Places on Long Island that Bring Holiday Cheer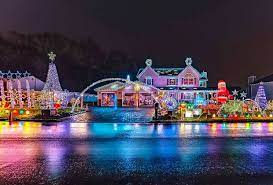 The Mildredge Inn
The Mildredge Inn decorates for all exciting seasons and holidays, but through November 24 to December 31, the Mildrege Inn is transformed into an immersive Christmas village with a wide variety of activities to participate in. To kick off the season there is a tree lighting followed by the opening of the holiday festivities. These festivities include Santa's workshop where ornaments or stocking decorations, stuffed animals, and ginger bread houses can be built and designed. The shops and bakeries also open up for unlimited holiday shopping. Although the Milleridge Inn Christmas experience is geared toward children, people of any age can come and enjoy the holidays.
Jones Beach Magic Light Show
Through November 18th to December 30th Jones Beach will transition to an illuminating winter wonderland. Wether driving or walking there are a multitude of attractions to see and activities to do. Craft and send a letter to santa, snack on holiday refreshments or snacks, or just enjoy over 40 scenes of holiday light displays. From 5:00 to 10:00 P.M or 5:00 to 11:00 P.M on Friday and Saturday for around $30 the Jones Beach Magic Light Show is open for any age to appreciate.
Bayville Winter Wonderland
Although the main Bayville attraction is the Bayville Scream park during the fall time, the Bayville Winter Wonderland takes a scarier take at Christmas. Starting December 2nd and ending January 2nd activities like santa axe-throwing, Ice skating, a holiday express train ride, and a Christmas tree forest will be present at the Bayville park. However from the 9th – 11th and 16th – 18th at 7:30 to 10:00 the Bayville Winter Wonderland turns into a haunted Christmas with 3 separate scary haunted houses including food and drinks for around $30 per ticket.
Old Westbury gardens
The Shimmering Solstice at Old Westbury gardens is a memorable and immersive walkthrough experience to enjoy with the whole family. Starting November 25th and ending January 1st the Old Westbury Gardens turn into a magical wonderland with a newly designed interactive area, including three new and exciting winter exhibits, an expanded brightened event path, and a brand new dramatic finale to the festival. Each tour lasts 45 minutes from 5:30 to 9:30 PM for around $35 for adults and $20 for kids.
The Happy Elf
The Happy Elf at the Argyle theater is an energetic holiday musical for the whole family enjoy! Following the story of Eubie a joyful elf, who he tries to bring Christmas cheer to the town of Bluesville. Follow him along as he teaches the people of Bluesville the power of positivity, friendship, and believing in yourself during times of adversity. The shows are running from November 19th to January 1st every Saturday and Sunday at 10:30 AM.